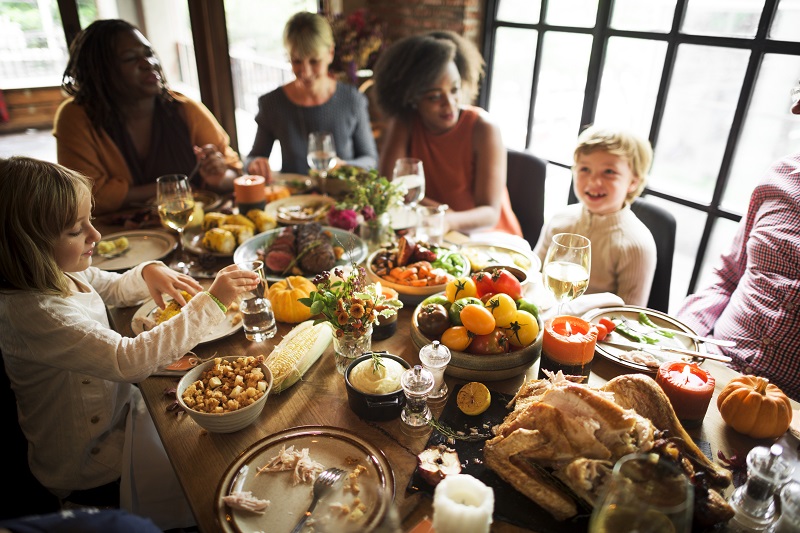 The holiday season is upon us, which means beautiful fall colors, crisp fresh mornings, and celebrating with loved ones gathered around tables. The thought of Thanksgiving this month conjures up ideas of cozy sweaters, loud full houses, and turkey with all the fixings. It can also bring up nerves and insecurities about your ostomy. Don't let these fears get in the way of making memories with family and friends.
With just a bit of extra planning and preparedness, you will be able to focus more on your loved ones and less on the 'what-if's' of your ostomy. Here are some helpful tips for getting through the holidays.
Attire
It's possible that not everyone who will be at your Thanksgiving dinner is aware of your ostomy.  Although you can pretty much count on loud conversation to drown out all awkward noises, we've all thought about that one moment where everything is silent just before a Thanksgiving toast. If you are nervous of sounds your ostomy might make at this less than opportune moment, you might want to consider layering your clothing to help muffle noises.
Often a tighter undershirt or tank top paired with high-rise pants, leggings or an ostomy support belt can help to hold things in place as well as muffle noises. A bulky sweater can also help to control noise volume and conceal your pouch if you are feeling insecure about someone seeing it.
Packing Extra Supplies
This can't be said enough: Pack extra supplies and clothes in case of accidents, but also because large amounts of food can increase your output. Planning ahead and being extra prepared will ease your mind and keep your focus on the day and the people around you.
If you use any accessories, be sure to bring them as well as extra pouches. Skin wipes can be handy for quick clean up, and you might also want to pack a deodorizer to avoid any unpleasant odors when changing your pouch.
Traveling Tips
Whether traveling by car, train, bus, or plane to your Thanksgiving celebration, you will want to be prepared. If you are flying, you will want to be sure to check the airlines baggage size allotment and liquids restrictions before packing. Pack as many of your supplies as possible into your carry-on so that you have them with you on the plane, but also to avoid any problems with lost luggage. You will want to bring extra pouches, barriers, and any accessories you usually use. Many accessories come in smaller travel-sized packets. You may also want to pre-cut your barriers as scissors and other sharp objects can be taken away at security.
Traveling by bus, train, or car usually means you have fewer limitations on what you can bring. Feel free to over-pack if it makes you feel more confident and less worried. As a rule of thumb, bring two to three times as many supplies as you think you will need. It's always better to return home with extra than to not have what you need on your trip.
Feasting Tips
If you've had your ostomy for a while, you will probably be familiar with what foods your body has a harder time processing, and which cause more gas. While each body is different, there are some foods that are known to be hard for digestion and cause blockages. Here is a list of common foods that can cause problems because they don't break down easily:
Nuts
Seeds
Popcorn
Dried Fruit
Mushrooms
Raw-Crunchy Vegetables
If you are unsure if a dish contains one of these things, be sure to ask the host. If you are worried about being able to eat foods at your Thanksgiving celebration, offer to bring a dish of your own to share.
Remember to chew your food well and keep hydrated. Avoid fizzy beverages as these can also cause excess gas. Many people will fast during the morning and then overeat for Thanksgiving dinner. Instead, try eating one or two smaller meals before and smaller portions for Thanksgiving dinner.  Ask the host if you can take home leftovers to enjoy later.
Thankfulness
While it can be hard adjusting to an ostomy, there's a chance that having this surgery saved your life in one way or another. Accepting your ostomy doesn't mean that it's always going to be easy and without accidents and frustrations, but it's possible that you were dealing with an illness that kept you confined to your home, or unable to enjoy activities. If this was the case, having your ostomy will empower you to do many of the things you were unable to do before. Keep this in mind while you celebrate, laugh, and dine with your loved ones!