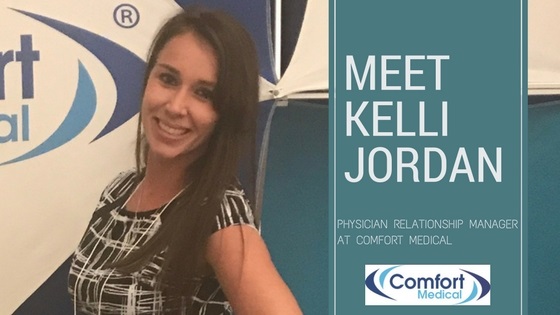 This is the first of a series of posts in which we'll introduce some of the people who make up the team we find pretty amazing here at Comfort Medical. First up:  Kelli Jordan!
Kelli, tell us a little bit about your professional background?
After graduating high school, I went into a medical assistant program and shortly after started working as a medical assistant at a urology clinic for 10 years up until I came to Comfort Medical in September 2015. During that time, I also gained my bachelor's degree in health science. I'm currently working toward a master's degree in occupational therapy.
What is your role at Comfort Medical?
I'm a physician relationship manager. We manage the physicians' offices and make sure we meet all their needs and expectations by sending educational materials and supplies, setting up their patients with us, and building relationships and partnerships. Our goal is to provide a true personal service to the clinics and the patients. Patient care is our priority.
What initially attracted you to Comfort Medical?
During my time at the urology clinic, I actually used Comfort Medical to set up my patients who needed catheter supplies and samples for our office. They were my go-to company. What originally attracted me to Comfort Medical, was the ease of access and getting my patients set up. Each patient I set up with Comfort Medical always had something great to say, even if we could not service them. Comfort Medical would go out of their way to make sure the patient had samples and found another supply company in the meantime. So when my rep tried to recruit me, I knew it was a great company to work for!
With my experience in urology, I have a better understanding of what clinicians and patients truly need. Since working at Comfort Medical, I have been able to grow with the help of my director, supervisor, and teammates!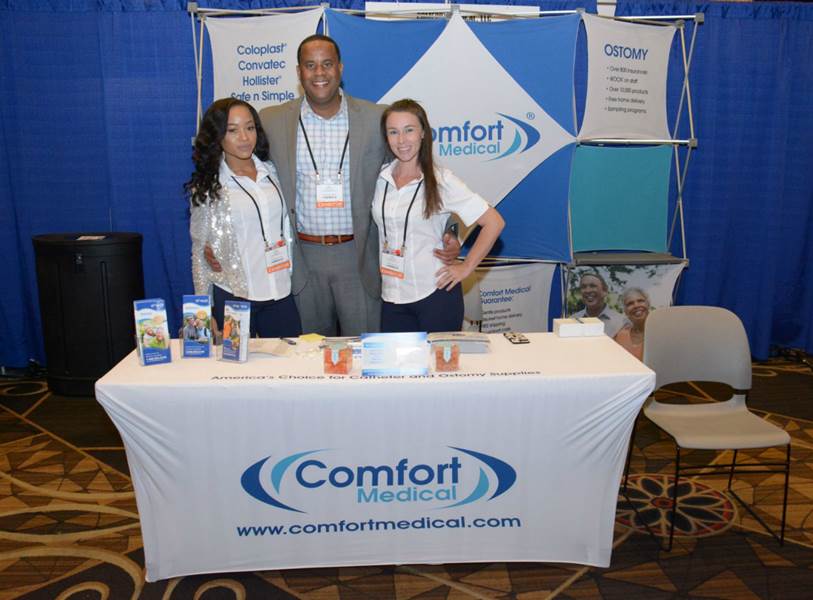 What is your typical day at work like?
When I get in, I go through my patients to make sure they're taken care of and make any necessary calls. Throughout the day, I call several doctor's offices to check in with them. I prepare by reviewing my notes and see where I can support the clinicians the best and send them materials according to their patient population. I strive to deliver solutions to clinics where support is needed and make this a seemingly easy process. If there are any new patients that come in throughout the day, we stop what we're doing and make sure they are our top priority. There are also those extra customer service calls where a patient specifically asks for you because you've helped them before.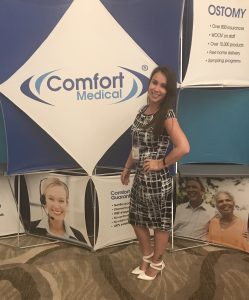 How do you help make the Comfort Medical experience a pleasant one for customers?
I try to fully understand the customer and their needs by letting them talk. I go over the products with them, reassure them that we're here for them, and foremost I am compassionate. Sometimes I share knowledge I've gained through personal experience, and sharing that information helps them a little bit further. If they're having a problem, I see what I can do to help. If it's something we can't do, I try to help them find the resources they need. We try to go above and beyond for the patient.
What is your favorite thing about working for Comfort Medical?
I enjoy talking to patients. I like to know that I've helped somebody. If the patient was your mom or dad, you're going to give them everything you have and everything you possibly know to make sure they're doing everything right and they understand how to use the product. I would want somebody to take the time with my mom and treat her as if she were their mother as well. It's just my rule about patient care. The first doctor I ever worked for said that to me, and ever since then, I've always based how I talk to patients on that.
Now for the fun stuff. What is your favorite movie?
Let's go with Wonder Woman.
What is your favorite genre of music?
Country, soul, R & B, hip hop, just a general lover of all music!
What is your favorite food?
Tacos!!!
What do you do in your spare time?
Spare time? I don't have any spare time! When I'm not at work, I'm either with my two kids, studying, or sleeping. It's pretty much going to the park, coloring, playing hide and go seek, riding bikes, and going on epic adventures with the little ones.
Let's rephrase that differently. If you happened to have some spare time, what would you do?
I love photography — scenery, nature, sunsets, engagements, family portraits — I get out there when I can, but if I had extra free time, I'd be doing more photo shoots. Also, I'd go to the beach more often!
Tell us an interesting or quirky fact about yourself.
I can't eat a sandwich without chips in it. I'll make a gourmet sandwich and then I open it all back up and put chips in it. I need something crunchy. I prefer cheesy chips or barbecue flavor, but whatever is crunchy works.
Anything else you want to add?
Comfort Medical is great! I really love working here. People here are always willing to help you reach your goals!

Do you need catheter or ostomy supplies? Visit Comfort Medical online, and one of our product specialists will help you out. You never know, the person that picks up the phone might just be Kelli!